19th of Kislev Farbrengen for Japanese speakers at Chabad Tokyo
19th of Kislev Farbrengen for Japanese speakers at Chabad Tokyo
また熱い再会をしましょう! 日本語ファーブレンゲンの宵
講演と懇親: 於・ハバド・ハウス、12月11日午後7時~9時30分
講演:7:00〜8:30
「バアル・シェム・トブの出発点とハシディズムのカヴァナ」
講師:皆様ご存知のドクター・テシマ。
講演後は軽食とワインでご歓談いただけます。 (会費:¥3,000円)
申込方法:
参加者氏名、住所、連絡先電話番号、メールアドレスを明記して
CHABAD OF JAPAN ( c/o Mutoh-san)へ
Jewish Community Chabad of Japan/Tokyo חב״ד טוקיו יפן הקהילה היהודית

________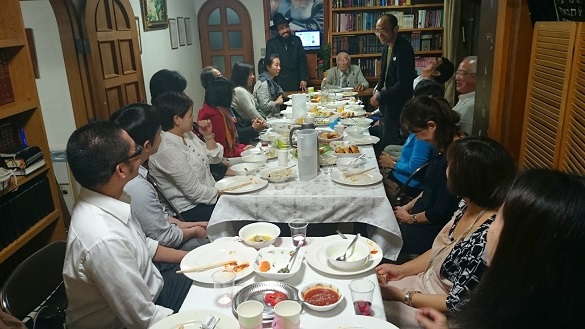 The evening of Kislev, 19th (December 11, 2014), 7:00p.m.
Japanese Farbrengen at Chabad House, Tokyo, (¥3,000.)
Lecture: "Beginning of the Baal Shem Tov and Hasidic Kavvanah",
by Dr. Jacob Y Teshima
1。修行者としてのラビ・イスラエル Rabbi Israel as an ascetic
2。ユダヤにおける修行者の伝統 Asceticism in Judaism
3。断食と独居 Fast and Solitude
4。デベクート Devequt / attachement to G-d
5。歓喜の生活 Life in joy
6。ヒトラハブートとその表現 Hitlahavut and its expression
7。熱い心    Burning heart
8。守るトーラから生きるトーラ Law in vitality rather than passivity
9。全地に栄光は充満 The whole earth in His glory
10。人生の力とは?     Power of life?
~~~~~~~~~~~~~~~~~~~~~~~~~~~~~~~~~~
R.S.V.P.(出席:要返信)
to:
I will participate in the Farbrebgen.(参加します)
Name:(Roma-ji)_______________________
Phone: ______________________________
Address:________________________________________________________