Rabbi Edery visited and brought relief to the people of Tohoku many times, while they were living in the city halls and then in the caravans. These caravans served as interim homes for the survivors until a new area would be built for them by the government.
On one such visit, Rabbi Edery knocked on the door of the caravan, to ask how the family was coping and see how they were adjusting to their new reality. He wanted to check if there was anything they needed and how he could be of help. He asked the nine year old daughter how she was feeling, and she answered that she was sad because she could not practice piano anymore. Her beloved piano was washed away by the great waters, her home was destroyed entirely. Rabbi promised to help and told her that he will do his best to get her a piano.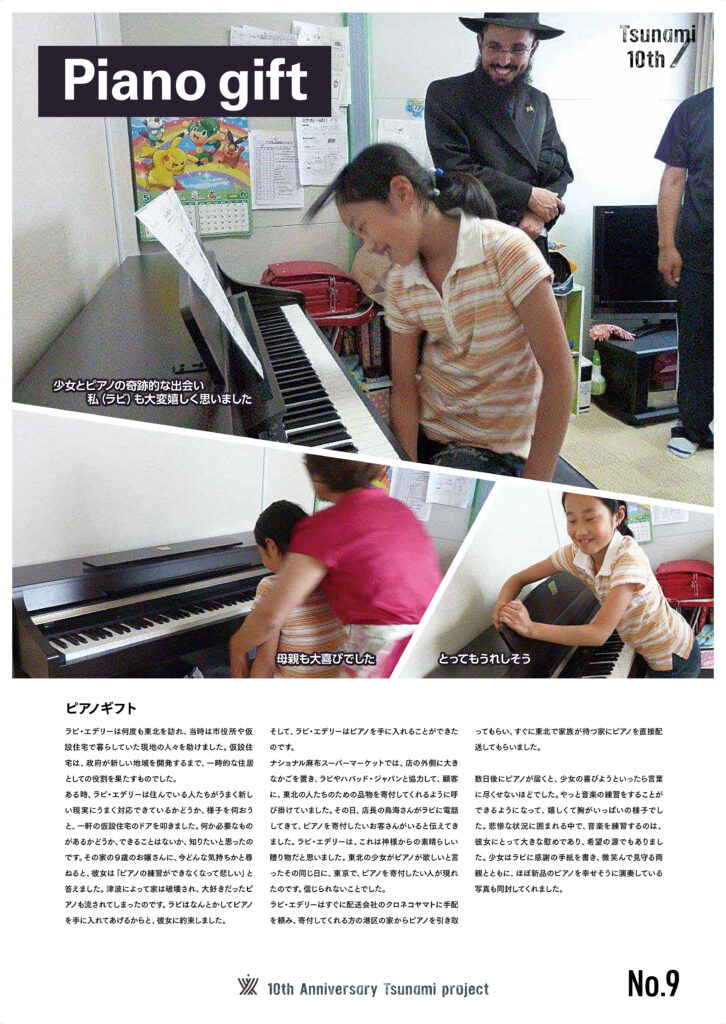 This is how Rabbi Edery got a piano for this young girl:
National Azabu supermarket was working with the Rabbi and Chabad Japan by allowing customers to donate items for Tohoku in big baskets outside the store. Toriumi san,the store manager, gave a call to the Rabbi, on that same day, saying that one customer wanted to donate a Piano and asked the store how he could go about it. Rabbi Edery realized this was an incredible gift from G-d. The same day that the girl from Tohoku expressed her wish for a piano, another person in Tokyo, wanted to give a Piano! This was incredible.
Rabbi Edery immediately organized that the shipping company Kuroneko Yamato should pick up the piano from the house of the donor in Minato-ku and deliver it directly to the family's caravan in the North.
Several days later, when the Piano arrived, the little girl was beyond herself with happiness. She can now continue to play and fill her heart with music and joy. Surrounded by destruction and hopelessness, playing music would be her comfort and source of hope during this difficult time. She wrote a letter of gratitude for the Rabbi and sent a picture of herself, happily playing on her almost new piano, with her parents smiling in the background.