Chabad Japan Event in Sendai for people affected by Tsunami, January 11, 2015
Chabad Japan Event in Sendai for people affected by Tsunami, January 11, 2015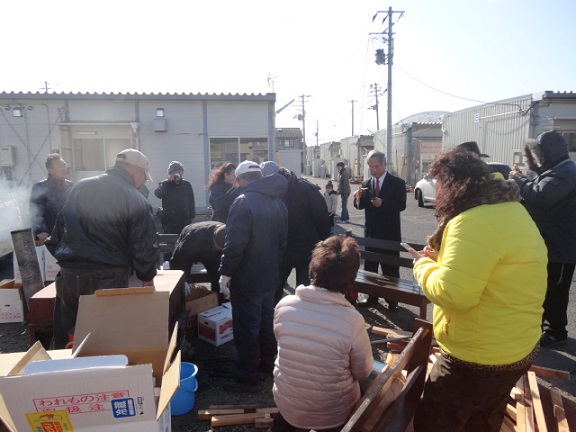 Chabad of Japan organized an event for the people of the north who suffered during the Tsunami. Soon after the Tsunami happened, Rabbi Edery along with Mr. Muto and Chabad of Japan staff went to the North to help the people survive. The relief efforts were continued for many months and years thereafter.
Till today, nearly four years later, Rabbi Edery, Mr. Muto and Chabad Japan staff, keep travelling and helping the people in the affeted areas. Some of the people still live in caravans. In the picture above they can be seen eating the "Yakimo" near their temporary housing, just one week ago.
The companies that receive kosher certification from Kosher Japan – KJ, donated
Sake to the people of the North in honor of the event, which was held in Iwanuma City hall.
The mayor of Sendai participated, and blessed the Rabbi's efforts, with tears in his eyes. The CEO of Dassai Sake, Mr. Sakurai, and sake company Nanbu Bijin of Niigata, and Oguro Shuzo of Niigata also generously contributed from their sake.
One of the biggest and most famous companies of Sweet Potato called
Katsushika donated large amount of sweet potato, which were baked in coal ovens for all the participants.
It was very moving to see the gratefulness of the people who rememebered how much suffering they went through and how much they were helped, thank G-d through the efforts of Chabad Japan. The happiness on their faces, knowing that they were not forgotten was very touching.
It was truly a "Kiddush Hashem"- sanctifying G-d's name among the nations.