Fundraising in Beverly Hills
The relief work needed a lot of funds to cover them. How was Rabbi Edery able to cover all the costs of 1 million dollars? He was very creative. Firstly, he got as many people involved in helping out. Each volunteer contacted their network and the word got out that funds were needed. People's generosity was incredible, especially from the Jewish communities worldwide. From the US, England, Israel there was an outpour of support.
Rabbi Edery, had one great idea for fundraising. He had Jewish friends in Beverly Hills who offered to organize a fundraising dinner for people who want to help. Rabbi brought Dassai sake, and the president of the company joined this event to promote Japanese sake and ask people to donate for the relief work. Rabbi Edery invited the president of Mutual Trading Inc., a Japanese import – export company located in California that brings many Japanese products to the US. The President, mR. came and gave a very large donation saying he was so happy and moved to help Rabbi Edery in his relief work, as he was doing so much for the Japanese people. Many of the guests were inspired by the many activities and all gave contributions for the benefit of the people of Tohoku.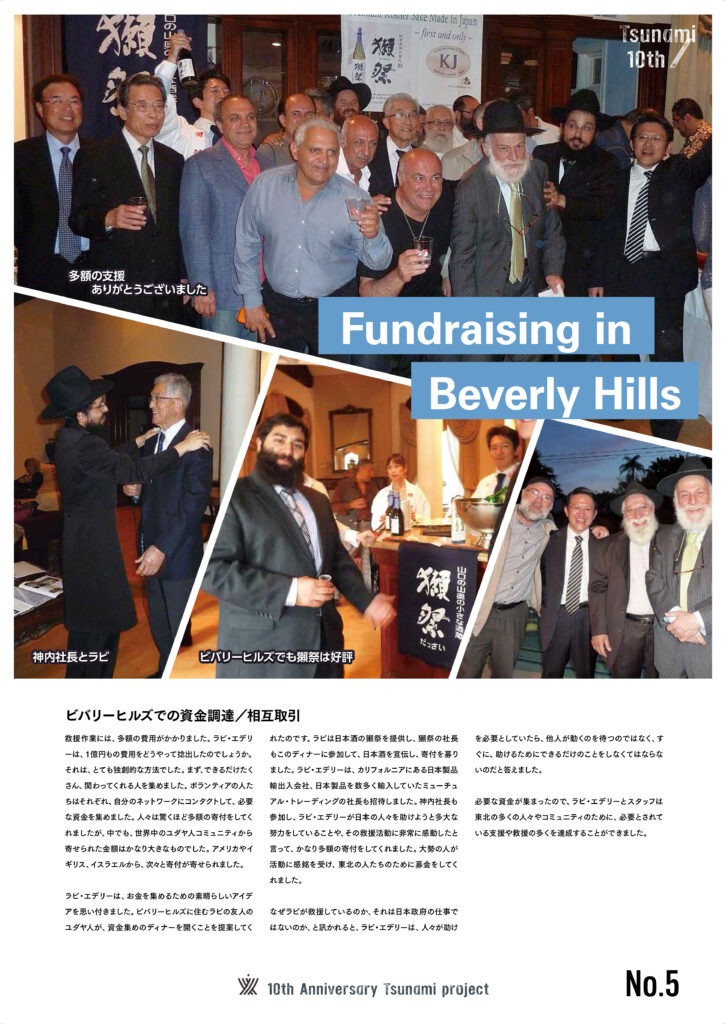 When asked, why was he the Rabbi, taking responsibility to help, isn't that the job of the Japanese government?
Rabbi Edery replied:
When people need help, you need to do everything you can to help right away, and not wait for others to move!
With these necessary funds, Rabbi Edery and his staff were able to accomplish so much and bring much needed assistance and relief for many people and communities in Tohoku.