Rabbi Edery and volunteers for Chabad Japan organized many events in the months after the Tsunami. The goal of these events was to strengthen the unity and good feeling among the people. To make them feel happy, loved and cared for. These events gave them the feeling that they were not alone, and someone is thinking about them.
Rabbi Edery organized BBQs, with best cuts of meat from National Azabu Supermarket. Since the Rabbi has a longstanding relationship with the president of the supermarket, they were glad to cooperate for the Tohoku events.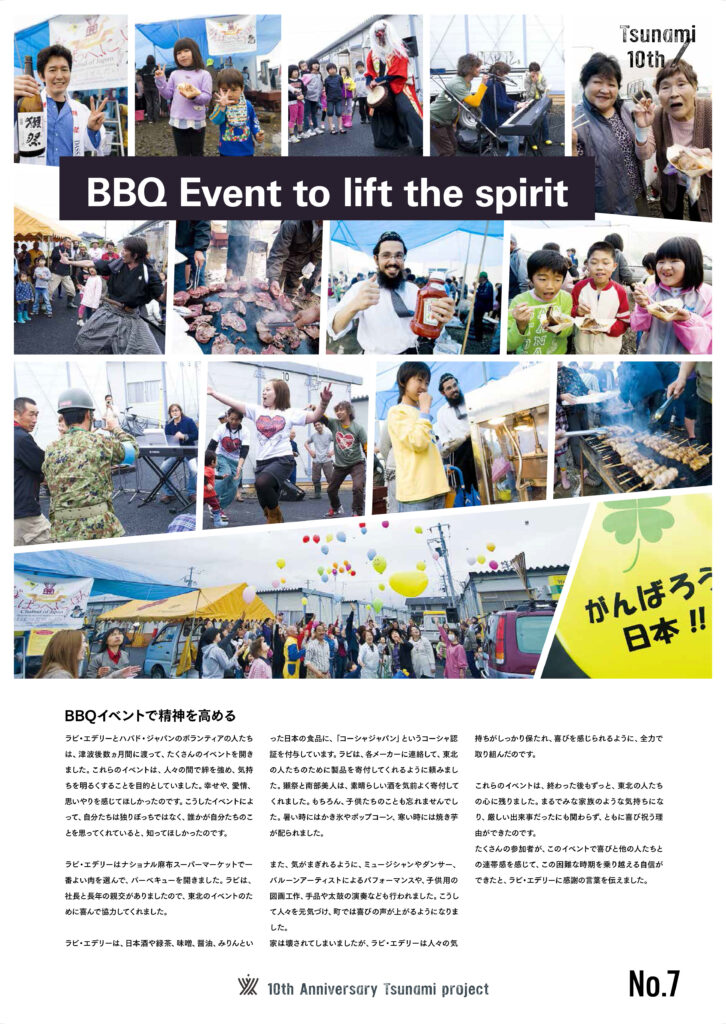 Rabbi Edery gives Kosher certification, called ''Kosher Japan'' on Japanese food products, such as Sake, green tea, miso, soyu, mirin, etc. Rabbi Edery contacted the companies and asked them to donate their products for the people of Tohoku. Dassai sake and Nanbu Bijin both generously donated their great Sake. The kids were not left out, with Kakigori machines in the warm months and Popcorn and Yakiimo in the winter months.
Entertainment was superb, with musicians, dancers, balloon activities, arts and crafts for the kids, magicians, and Taiko drummers. This perked up the energy and joy resonated in the cities.
The houses were destroyed, but Rabbi Edery made it his business to make sure that their hearts should stay strong and joyous.
They were events that lasted in the hearts of the people of Tohoku, long after they were finished. It formed a sense of family, and gave the strength that despite all the hardship there is much reason to be happy and celebrate!
Many participants thanked Rabbi Edery, saying that these events gave them the confidence that they will overcome this difficult time, with joy and united with all the others.