Distribution Centers
Distribution Centers
Rabbi Edery brought huge amounts of relief from Tokyo to Tohoku on a weekly basis for many months. To be exact, he rented 2 ton trucks, twice a week, packed with relief and necessities and then distributed it to many community centers in Tohoku.
How did the relief collection and distribution work?
Rabbi Edery requested National Azabu to put large baskets outside the store for people to put their contributions. One basket is for clothes, the second for dry foods, the third for all other things. People brought so much relief it had to be kept in the shop's storage area until pick up.
Rabbi Edery and his volunteers came twice a week in the evening, and packed the two ton truck. That took a while as there was so much to lift.
All night long they drove up to Tohoku, and arrived in Iwanuma very early morning. Around 4 or 5 AM.
In Iwanuma, a friend's parents' house was used for unpacking and sorting.
Rabbi Edery and his friend arranged for a team of helpers from the city to come and help sort all the items, women's clothes, kids clothes, shoes, coats, towels, food, baby food, toiletries , electrical appliances, blankets, soap/shampoo etc.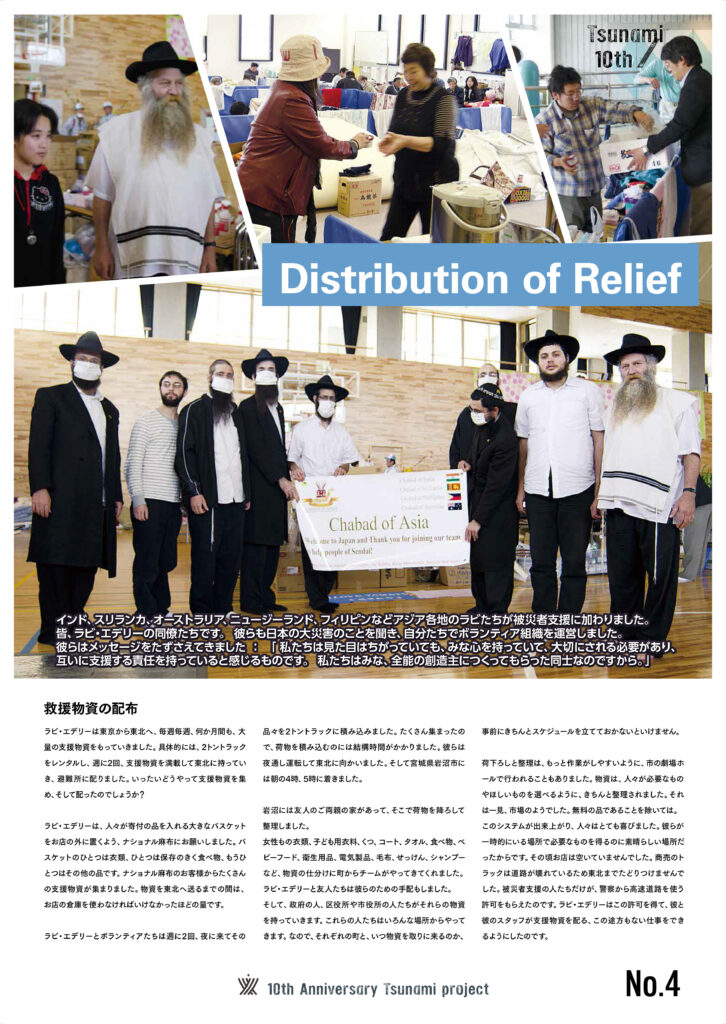 Then, government workers, Kuyakusho and city hall staff came to pick up all the relief. These staff came from many different cities, so all the arrangements had to be made with each city and when they could come to pick up.
In some cases the unpacking and sorting was done in the theater hall of the city hall, if there was space available. Then it was easier for the staff.

The items were arranged in an orderly and organized fashion for the people to come and choose and take what they needed and liked.
Basically it looked like a Bazaar, except it was for free. This system was organized and people were very happy to have this great opportunity to get what they needed, right where they were staying temporarily. Since there were no shops open, and trucks with merchandise could not travel on the broken roads to Tohoku. Only relief workers were given a special permit by the police department to use the highways. Rabbi Edery received such a permit making it possible for him and his staff to do this incredible work of relief and distribution.